Word Gems
exploring self-realization, sacred personhood, and full humanity
---
Happiness
---
"One is happy as a result of one's own efforts, once one knows the necessary ingredients of happiness - simple tastes, a certain degree of courage, self-denial to a point, love of work, and, above all, a clear conscience. Happiness is no vague dream, of that I now feel certain. By the proper use of experience and thought one can draw much from oneself; by determination and patience one can even restore one's health." George Sand
Mortimer Adler's Syntopicon Essay: Happiness
Editor's 1-Minute Essay: Happiness
Editor's Essay: An Alien's TravelGuide to Earth: Life, the Uncharted World - see the discussion between Eckhart Tolle and Peter Russell on consciousness and happiness
Editor's Essay: What Men Really Want
The great psychologists discuss how the mentally healthy view happiness and life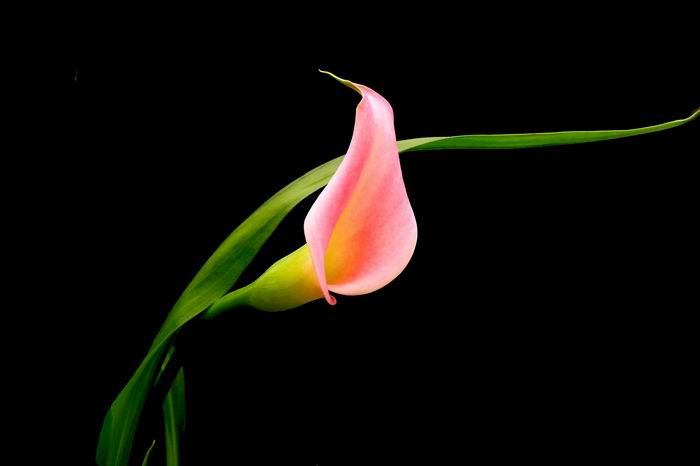 Eckhart Tolle: "People look to time in expectation that it will eventually make them happy, but you cannot find true happiness [simply] by looking toward the future. It's been said there are two ways of being unhappy: One is not getting what you want, and the other is getting what you want."
Viktor E. Frankl, Man's Search for Meaning: "Don't aim at success. The more you aim at it and make it a target, the more you are going to miss it. For success, like happiness, cannot be pursued; it must ensue, and it only does so as the unintended side effect of one's personal dedication to a cause greater than oneself or as the by-product of one's surrender to a person other than oneself. Happiness must happen, and the same holds for success: you have to let it happen by not caring about it. I want you to listen to what your conscience commands you to do and go on to carry it out to the best of your knowledge. Then you will live to see that in the long-run—in the long-run, I say!—success will follow you precisely because you had forgotten to think about it."
Howard Whitman, Success Is Within You: "The trouble comes when we try to fashion our success to the outside world's specifications even though these are not the specifications drawn up in our own hearts... Success, if it is to be meaningful, must be a personal thing... William Faulker, the Nobel prize novelist, has said, 'I was born to be a tramp. I was happiest when I had nothing. I had a trenchcoat then with big pockets. It would carry a pair of socks, a condensed Shakespeare, and a bottle of whiskey. Then I was happy and I wanted nothing and I had no responsibility.' One may reject this definition of success. That is, one may reject it for himself, but he cannot reject it for Faulkner."
Eckhart Tolle, The New Earth
unhappiness is caused by egoic thought-forms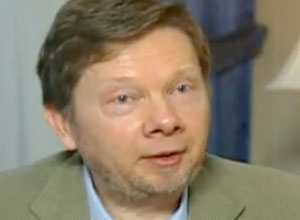 The primary cause of unhappiness is never the situation but your thoughts about it.
Be aware of the thoughts you are thinking. Separate them from the situation, which is always neutral, which always is as it is. There is the situation or the fact, and here are my thoughts about it. Instead of making up stories, stay with the facts.
For example, "I am ruined" is a story. It limits you and prevents you from taking effective action. "I have fifty cents left in my bank account" is a fact.
Facing facts is always empowering. Be aware that what you think, to a large extent, creates the emotions that you feel. See the link between your thinking and your emotions. Rather than being your thoughts and emotions, be the awareness behind them.
Don't seek happiness. If you seek it, you won't find it, because seeking is the antithesis of happiness. Happiness is ever elusive, but freedom from unhappiness is attainable now, by facing what is rather than making up stories about it.
Unhappiness covers up your natural state of wellbeing
and inner peace, the source of true happiness.

Dr. Carl Wickland, Gateway To Understanding: "What is the purpose of Life? In this age of unrest and disturbance many earnest minds are seeking the fundamentals underlying life itself. Humanity is still kept in subjection by fear and superstition, by repressive laws, by dogmas, creeds and false doctrines, and has not yet attained liberation through a fuller understanding. Happiness is unquestionably the goal of all human endeavor; all activities have this one aim in view. There are various conceptions of happiness, some confined entirely to physical, others to mental pleasures, while still others reach for spiritual happiness. What is this happiness, sought for through the ages? Happiness is not a thing; it is a condition of mind. This universal search, whether fulfilled or not, must indicate the existence of one Universal Principle, drawing all mankind to one ultimate, common attainment. It is evident that this Universal Principle has projected a visible universe for the purpose of individualizing humanity, and the goal of individualization is the acquirement of wisdom, which can only be attained through experience and reason."
Albert Schweitzer: The kindly doctor ministered to the world's cast-off underprivileged. On his 80th birthday in 1955, admirers raised $20,000 to send him cards, flowers and trinkets in darkest Africa, upon receipt of which the sainted recluse commented: "How I regret all this fuss. How tired I am."
Henry David Thoreau: "A man is rich in the proportions of things he can let alone."
Dale Carnegie, How To Stop Worrying And Start Living: He tells the story of a lady with virtually no eyesight: "Then in 1943, when she was 52 years old, a miracle happened: an operation at the famous Mayo Clinic. She could now see 40 times [better]... A new and exciting world of loveliness opened before her. She now found it thrilling to even to wash dishes in the kitchen sink. 'I begin to play with the white fluffy suds in the dishpan... I dip my hands into them and I pick up a ball of tiny soap... I can see the brilliant colors of a miniature rainbow.' ... You and I ought to be ashamed of ourselves. All the days of our years we have been living in a fairyland of beauty, but we have been too blind to see, too satiated to enjoy. If you want to stop worrying and start living: Count your blessings - not your troubles!"
Albert Camus: "When you have once seen the glow of happiness on the face of a beloved person, you know that a man can have no vocation but to awaken that light on the faces surrounding him; and you are torn by the thought of the unhappiness and night you cast ... in the hearts you encounter."
Buddha: "Happiness comes when your work and words are of benefit to yourself and others."
Martin Luther King, Jr.: We have learned to fly the air like birds and swim the sea like fish, but we have not yet learned the simple art of living together like brothers. Our abundance has brought us neither peace of mind nor serenity of spirit.
John Milton: "The mind is its own place, and in itself, can make heaven of Hell, and a hell of Heaven."
Margaret Bonnano: "It is only possible to live happily ever after on a day to day basis."
Gandhi: "Happiness is when what you think, what you say, and what you do are in harmony."
Hawthorne: "Happiness is as a butterfly which, when pursued, is always beyond our grasp, but which if you will sit down quietly, may alight upon you."
Charlotte Dresser, Life Here And Hereafter (1927): words sent from the Other Side: "I am wishing to tell those on earth, who are struggling to learn what is the meaning of life, that it is the way one looks at it that determines its value. If one thinks of it as a time of sensuous enjoyment, one makes his life a thing of little worth, for such things have no value in the spirit world. If one looks at life as something to be endured and to be gotten through as soon as possible, he will form a character that has nothing to rest on here. He will have to create new foundations before he can advance. If one there believes that life consists in praying and preaching, that spirit is apt to want to pray and preach here; and in this world there are no churches or congregations to respond as they did there, and the spirit has to learn that there are other things to acquire before the true life can be enjoyed. When a soul on earth can realize that there are others there who need assistance, who will be the better for aid and sympathy, and can learn to feel that this aid and sympathy can be given by himself, he is on the way to create the life that will mean the most to him when his mortal life is over."
Eckhart Tolle, The Power Of Now
external beauty first makes us happy, then unhappy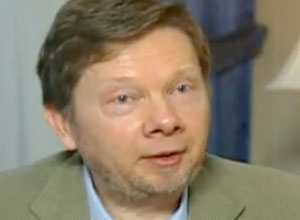 "The happiness that is derived from some secondary source is never very deep. It is only a pale reflection of the joy of Being, the vibrant peace that you find within."
We sometimes hear of people who have lost all their money or whose reputation has been ruined committing suicide. Those are the extreme cases. Others, whenever a major loss of one kind or another occurs, just become deeply unhappy or make themselves ill. They cannot distinguish between their life and their life situation.
I recently read about a famous actress who died in her eighties. As her beauty started to fade and became ravaged by old age, she grew desperately unhappy and became a recluse. She, too, had identified with a condition: her external appearance.
First, the condition gave her a happy sense of self, then an unhappy one. If she had been able to connect with the formless and timeless life within, she could have watched and allowed the fading of her external form from a place of serenity and peace.
Moreover, her external form would have become increasingly transparent to the light shining through from her ageless true nature, so her beauty would not really have faded but simply become transformed into spiritual beauty…
The Buddha taught that even your happiness is dukkha - a Pali word meaning "suffering" or "unsatisfactoriness." It is inseparable from its opposite. This means that your happiness and unhappiness are in fact one. Only the illusion of time separates them.
… to seek something [permanent] through [temporary things such as physical beauty] [is dysfunction as] they [cannot offer] - an identity, a sense of permanency and fulfillment – [it's] a recipe for frustration and suffering… Things and conditions can give you pleasure, but they will also give you pain… they cannot give you joy. Nothing can give you joy. Joy is uncaused and arises from within as the joy of Being… Many people never realize that there can be no "salvation" in anything they do, possess, or attain.
Those who do realize it often become world-weary and depressed: if nothing can give you true fulfillment, what is there left to strive for, what is the point in anything? When you reach this point, you are one step away from despair - and one step away from enlightenment…
This state is then no longer dependent upon things being in a certain way, good or bad… The happiness that is derived from some secondary source is never very deep. It is only a pale reflection of the joy of Being, the vibrant peace that you find within as you enter the state [of awareness of] Being [which] takes you beyond the polar opposites of the mind and frees you from dependency on form. Even if everything were to collapse and crumble all around you, you would still feel a deep inner core of peace.
You may not be happy, but you will be at peace.
Frederic W. H. Myers, Vanishing Night, transmitted to Juliet S. Goodenow, 1923: "It is not so much what you will find when you come to this side of life as what you will bring with you... Sleep is the best definition of death I know anything about - just going to sleep unafraid to awake in a new and beautiful room, and to be satisfied."
Mother Teresa: "The Western world will never know peace as long as they continue to allow their mothers to kill their own young."

"I have now reigned about 50 years in victory or peace, beloved by my subjects, dreaded by my enemies, and respected by my allies. Riches and honors, power and pleasure, have waited on my call, nor does any earthly blessing appear to have been wanting to my felicity. In this situation, I have diligently numbered the days of pure and genuine happiness which have fallen to my lot. They amount to fourteen." Abd ER-Rahman III of Spain (960 AD)
Eckhart Tolle, The Power Of Now
BEYOND HAPPINESS AND UNHAPPINESS THERE IS PEACE: THE HIGHER GOOD BEYOND GOOD AND BAD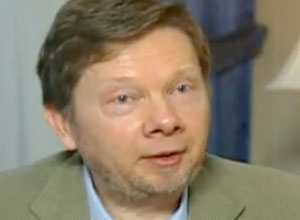 "Seen from a higher perspective, there is no 'good' or 'bad'. There is only a higher good - which includes the 'bad'.
Is there a difference between happiness and inner peace?
Yes. Happiness depends on conditions ["happenings"] being perceived as positive; inner peace does not.
Is it not possible to attract only positive conditions into our life? If our attitude and our thinking are always positive, we would manifest only positive events and situations, wouldn't we?
Do you truly know what is positive and what is negative? Do you have the total picture? There have been many people for whom limitation, failure, loss, illness, or pain in whatever form turned out to be their greatest teacher. It taught them to let go of false self-images and superficial ego-dictated goals and desires.
It gave them depth, humility, and compassion. It made them more real. Whenever anything negative happens to you, there is a deep lesson concealed within it, although you may not see it at the time. Even a brief illness or an accident can show you what is real and unreal in your life, what ultimately matters and what doesn't.
Seen from a higher perspective, conditions are always positive. To be more precise: they are neither positive nor negative. They are as they are. And when you live in complete acceptance of what is - which is the only sane way to live – there is no "good" or "bad" in your life anymore. There is only a higher good - which includes the "bad."
Seen from the perspective of the mind, however, there is good-bad, like-dislike, love-hate. Hence, in the Book of Genesis, it is said that Adam and Eve were no longer allowed to dwell in "paradise" when they "ate of the tree of the knowledge of good and evil."
This sounds to me like denial and self-deception. When something dreadful happens to me or someone close to me - accident, illness, pain of some kind or death - I can pretend that it isn't bad, but the fact remains that it is bad, so why deny it?
You are not pretending anything. You are allowing it to be as it is, that's all. This "allowing to be" takes you beyond the mind with its resistance patterns that create the positive-negative polarities…
For example, when a loved one has just died, or you feel your own death approaching, you cannot be happy. It is impossible. But you can be at peace. There may be sadness and tears, but provided that you have relinquished resistance, underneath the sadness you will feel a deep serenity, a stillness, a sacred presence.
This is the emanation of Being, this is inner peace, the good that has no opposite.
What if it is a situation that I can do something about? How can I allow it to be and change it at the same time?
Do what you have to do. In the meantime, accept what is. Since mind and resistance are synonymous, acceptance immediately frees you from mind dominance and thus reconnects you with Being. As a result, the usual ego motivations for "doing" - fear, greed, control, defending or feeding the false sense of self - will cease to operate. An intelligence much greater than the mind is now in charge, and so a different quality of consciousness will flow into your doing.
"Accept whatever comes to you woven in the pattern of your destiny, for what could more aptly fit your needs?" This was written 2,000 years ago by Marcus Aurelius, one of those exceedingly rare humans who possessed worldly power as well as wisdom.
Editor's note: In "The Wedding Song" Kairissi and Elenchus discuss the issue of "there is no 'bad' when viewed from a higher perspective," that of God as Singular Pervasive Reality.